COMBINED CIVIL SERVICES EXAMINATION- I
Group – I Services (Main Examination) (Degree Standard)
CLASS ROOM TRAINING PROGRAMME FOR TNPSC GROUP – I SERVICES
MAJOR HIGHLIGHTS
GENERAL ORIENTATION 

SUBJECT WISE ORIENTATION

CLASSES FOR KEY AREAS

MANDATORY TEST SERIES

GENERAL TEST SERIES

MATERIALS

ACCESS TO REFERENCE HALL  

MODEL EXAM
PAPER – I (250 Marks / 3 Hours)
UNIT- I : Modern history of India and Indian culture
UNIT- II : Social issues in India and Tamil Nadu
UNIT- III : General Aptitude & Mental Ability (SSLC Standard)
PAPER – II (250 Marks / 3 Hours)
UNIT- I : Indian Polity and emerging political trends across the world affecting India
UNIT- II : Role and impact of Science and Technology in the development of India
UNIT- III : Tamil Society ‐ Its Culture and Heritage
PAPER – III (250 Marks / 3 Hours)
UNIT- I : Geography of India with special reference to Tamil Nadu
UNIT- II : Environment, Bio Diversity and Disaster Management
UNIT- III : Indian Economy – Current economic trends and impact of global economy on India.
Interview & Record – 100 Marks
Total Marks – 250+250+250+100 = 850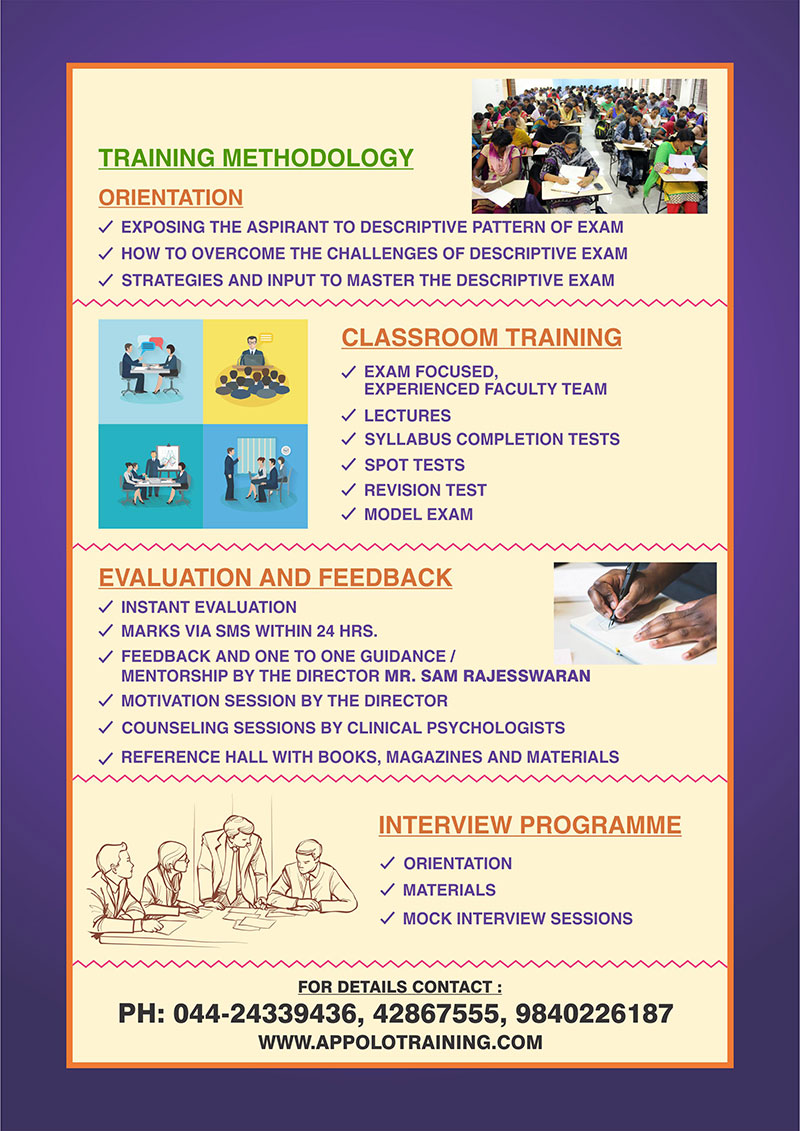 SPECIAL TRAINING FOCUSING ON
HOW TO WRITE

WHAT TO WRITE

HOW TO PRESENT ANSWERS IN TERMS OF THE EVALUATOR

UNDER THE PERSONAL GUIDANCE OF R. SAM RAJESSWARAN, DIRECTOR, APPOLO STUDY CENTRE
CLASS MODULE
ASSIGNMENTS – STRUCTURING OF ANSWERS / SCREENING OF SKILLS
TOPIC BASED SOURCE MATERIALS
MICRO LEVEL AND MACRO LEVEL PLAN WITH CONTENT
TOPIC BASED LECTURES (FORMULATION & STRUCTURING OF ANSWERS)
PRE-DEFINED AND UNIT FOCUSED TEST MODULES
EVALUATION IN TERMS OF THE EXAM
ANSWER SHEET EVALUATION AND FEEDBACK
Individual marks will be communicated via SMS and Rank list of students for every test will be displayed in the Notice board.
Evaluated answer papers can be collected from the Eelam Hall after getting mark through SMS.
Aspirants after collecting evaluated answer booklet must receive the feedback from the Director before proceeding to the next test.
ADVANTAGE OF APPOLO
STUDY MATERIAL CONTAINING DYNAMIC COMPONENTS OF SYLLABUS.
IN-HOUSE FACULTY WITH GREAT EXPERIENCE AND EXPERTISE AVAILABLE 24/7.
APPOLO WORKS ON ALL 365 DAYS IN A YEAR.
CONSTANT RESEARCH AND DEVELOPMENT IN TERMS OF MATERIAL AND METHODOLOGY AND INNOVATION IN ANSWERING TECHNIQUES.
SPECIAL COUNSELING FROM EXPERTS ON LEGIBLE HANDWRITING.
CAREFULLY SELECTED BOOKLISTS PRESCRIBED BY EXPERTS.
EFFECTIVE USE OF TECHNOLOGY IN CLASSROOM DELIVERY, EVALUATING TESTS, POSTING FEEDBACK AND COMMUNICATING WITH STUDENTS.
TEST AND EVALUATION CLOSELY FOLLOW TNPSC PATTERN, THEREBY SETTING ACCURATE BENCHMARK FOR STUDENTS TO PREPARE AND PERFORM.
For More Details:
APPOLO STUDY CENTRE
No.25, Nandhi Loop Street,West C.I.T. Nagar, Chennai – 600 035
Near T.Nagar Bus Stand,
Landmark: Nandhi Statue
Phone: (044)42867555, (044)24339436,
Mobile: 9500099706, 9840099828, 9840226187
E-mail: appolotnpsc@gmail.com
Website:
www.appolosupport.com